Down the ages we have trod
Many paths in search of God,
Seeking ever to define
the Eternal and Divine.
Some have seen eternal good
pictured best in Parenthood,
and a Being throned above
ruling over us in love.
There are others who proclaim
God and Nature are the same,
and the present Godhead own
where Creation's laws are known.
There are eyes which best can see
God within humanity,
and God's countenance there trace
written in the human face.
Where compassion is most found
is for some the hallowed ground,
and these paths they upward plod
teaching us that love is God.
Though the true we can't perceive
this at least we must believe,
what we take most earnestly
is our living Deity.
Our true God we there shall find
in what claims our heart and mind,
and our hidden thoughts enshrine
that which for us is Divine.
~words: John Andrew Storey, 1935-1997
~music: Thomas Benjamin, 1940-, © 1992 Unitarian Universalist Association
Well, this is it isn't it? The BIG QUESTION... What is God?
I have been called to the religious for a VERY long time. I was baptized at the age of 7 at
Central United Methodist Church
in Lansing, MI. To this day I am not sure what prompted my mother to have me baptized. She didn't feel the need when I was born, but, within about a year of our family attending CUMC, mostly so that my brother Sean could play basketball in a regular league, there I was, kneeling before a baptismal font, having holy water dripped upon my head and wondering, even then what the point was.
I don't think I have ever thought of God as a kindly (or vengeful) old man sitting on his throne in the clouds watching over us, as I imagine is referred to in the second verse of this hymn. God was never that personal for me even at seven. I don't know that I ever had a picture in my head of "God" but I had my first experiences with spirituality in that church. I sang in the choir and I can vividly remember sitting in the choir loft listening with rapt attention to the voice of our minister Dr. Limon. He was funny and poignant, a masterful lecturer who kept my attention even as a child, through him I heard the voice of spirit. I was sad when he retired.
I spoke in my last post about having had what many would term a spiritual experience out in nature. So I understand the second verse. I have many friends and family members who find God in the arms of nature. I guess I see wonder there and beauty as well, but I am not sure I find the "divine" anywhere, even in the most beautiful spots I have been to.
The third verse of this hymn speak directly to my spirituality. I see "God" in the face(s) of humanity. I see it in the smile of a small child, I hear it in the singing of songs, I feel it in a crowd of like minded folks united for the same cause, I see God in all of us, in the collected "we". And, truthfully, I see both a merciful, loving God and a wrathful God of punishment. That may be what saddens me most, that we are our own salvation and yet we, the species, insist, still, on creating a world where
80% of the world's population lives on less than $10 a day
and where the richest 20% of the population accounts for more than 2/3 of the worlds wealth. I am horrified that 1/6 of the world's population does not have access to clean drinking water. These are issue we can fix and yet we
spend more than $70,000,000,000,000 (70 TRILLION) per year
on "defense" spending and
just over $15,000,000,000 (15 billion) on humanitarian aid
. Humanity, it seems, is a cruel God.
As with those referenced in the fourth verse of the hymn, I also found spirit (again I'm not sure I would call it the "Divine") manifest on "hallowed ground". The worship space at the church I grew up in is a grand sanctuary. Designed by
Elijah E Meyers
, who also designed the state capitol building of Michigan (as well as the Texas state capitol, and the capitol building of Colorado) the sanctuary of CUMC sports majestic oak rafters holding up the 40 foot vaulted ceilings. Red carpeted runners lead from the back stairway entrance to the chancel, at the back of which sits the marble altar. Framing each side of the chancel are honeycombed grills through which the sound of the church's German-born pipe organ, updated in the early 80's while I was still attending, give out their glorious music. Stained glass windows rise from about four feet off the floor to the height of the ceiling - they must be 30 feet or more in height. CUMC is everything you would expect a church to look like and, indeed, it inspires. The candlelight services on Christmas Eve are still some of the most beautiful memories I have. Even without a congregation there the empty sanctuary cries out a call to God.
But "hallowed" ground has also meant places like the
Vietnam War Memorial Wall
in Washington, DC. One of the most profound encounters I have ever had with Grace and Peace happened here. I had gone to DC on a work trip, only a few days in length. Knowing that this might be the only time I ever got the chance to visit our capitol, I decided to get out at least one day and see some of the monuments. I walked from my hotel to the national mall and saw the
Washington Monument
. From there I walked along the park past the reflecting pool to the
Lincoln Memorial
. While both are impressive, it wasn't until I walked back along the reflecting pool and took the turn out to walk along Constitution Ave that I really understood what a memorial could do.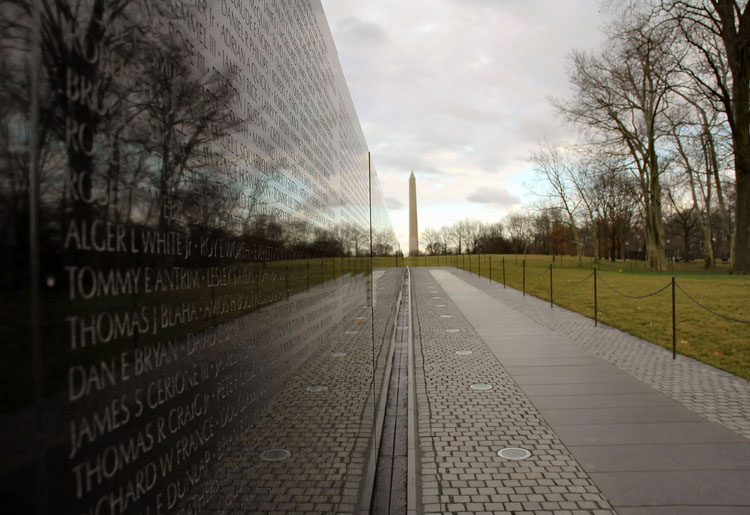 Coming in along Constitution, you see the Wall immediately, but coming the way that I did, it sneaks up on you. All of a sudden you're presented with the massive edifice of the two gabbro slabs. Gradually it strikes you that there is something etched into the smooth greenish-black stone. At first you can't quite make it out. But, little by little, as though it takes your mind a moment to grasp the gravity of what you're viewing, you begin to notice the names, fifty-eight thousand names of the men and women lost to that tragic war.
And yet, once I had dealt with the momentousness of the sense of epic impotence I felt at seeing these names, I felt a profound sense of peace come over me. There loss can never be minimized, should never be forgotten, but they are given their moment in history, they are eulogized with moment and respect by that wall. It was one of the most moving things I have ever seen.
It is, I think, the last two verses of this hymn that I find most thought provoking. "This at least we must believe, what we take most earnestly is our living Deity. Our true God we there shall find in what claims our heart and mind..."
What is it we take most earnestly? Money? Power? Education? Television? Our Western, first-world, lives are filled with things that call us away from what philosophers have called our "spark of Divinity". This too then, is or should become a central focus of my spiritual practice: to focus on where it is that I find the "divine" (for lack of a better word), humanity. I think I need, I think we ALL need, to focus on that which binds us, one to another, to focus on reaching out to others to build bridges of love.
The Associate Minister of Music at VUU, Kellie Walker, introduced me to a wonderful, easy to sing, anthem of humanity. The words are:
I'm gonna lift my sister (brother, mother, father, etc.) up
She is not heavy
I'm gonna lift my sister up
She is not heavy
I'm gonna lift my sister up
She is not heavy
If I don't lift her up
If I don't lift her up
If I don't lift her up
I will fall down...
There, there is the crux of my religion in a single phrase...